We put our heart and soul into the tools that make language visible and let you get your identity across.
Although you can buy any of our retail fonts and be sure to get cutting-edge quality and reliability, sometimes one size just doesn't fit all. That's why we're happy to offer tailor-made type solutions for any situation or use case; from small modifications to full-fledged custom typefaces. These are some of our services: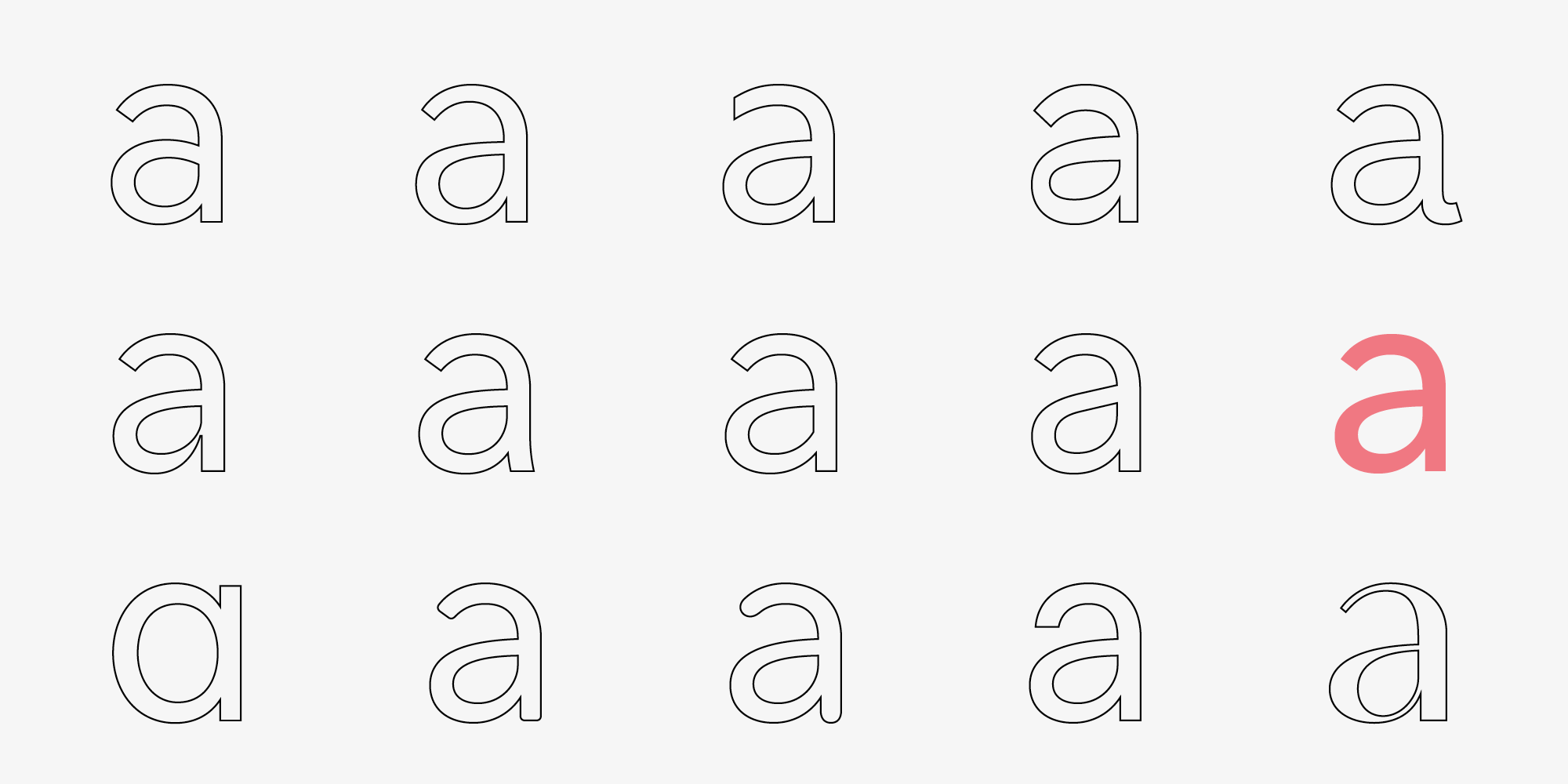 Font Modification
Found a great font but the shape of the ampersand isn't quite right? Need certain letters to match your client's logo? Want to add a new script to an existing design?
Modifying a retail font is a quick and cost-effective way to achieve an individual typographic solution.
Sometimes, changing or adding a few letters is all it takes to turn a readily available typeface into a truly unique voice – a voice that perfectly suits the identity of a brand, company, or campaign. The effect of a few customized glyphs may be subtle in text sizes. Yet it can make a dramatic impact in headlines and display settings.
But wait, there's more: fonts can also be modified to enhance the functionality of a typeface, tailored to its intended use. For example, we can add frequently needed symbols to a font, such as a logo or wayfinding symbols, and make them accessible via ligatures. No more need to fumble around with image files when you can just type your logo in!
Custom (Corporate) Typefaces
If a modified retail font doesn't do the trick for you, you might want to opt for an entirely Custom (Corporate) Typeface. With this bespoke solution, we'll design your custom typeface from scratch. Our work will be based on the individual requirements of your company, institution, product, brand, or campaign. Guaranteed to be unique, guaranteed to be worry-free.
An Identity Letters Custom (Corporate) Typeface is one of the most effective means for a brand to stand out of the crowd. It allows your business to establish a visual voice that will convey its character and values with any written word.
Our Custom (Corporate) Typefaces are also a great way to cover any technical need in the daily routine of a business or institution. By carefully researching special uses in advance and considering those use cases during the design phase, we craft our custom typefaces to be efficient in any kind of workplace.
Last but not least, you are free to use a Custom (Corporate) Typeface any way you want—no more licensing hassle. It can save you quite some time and money in the long run.
Want to learn more about the benefits of custom and corporate typefaces? Head over to our blog to read or download Moritz Kleinsorge's 2019 master thesis.
Typologo
Typographic logos (or typologos, as we call them) come with lots of advantages. They can be read like a word, thus establishing a brand name. Once established, they are recognized in a glance, just like an image. No wonder most startups as well as many time-tested businesses prefer typologos over pictorial logos today.
Designing an excellent typologo demands as much diligence and expertise as drawing a pictorial logo. If it's done right, it provides a unique and effective way of typographic branding without investing the time and budget for an entire custom typeface.
That said, a typologo can serve as the starting point for a complete alphabet later: we'll be happy to create a custom font based on your typologo anytime.
Get in touch
Whether you'd like some more information on our custom services or know what you need already: feel free to get in touch. We look forward to talking type with you.